Cultural Heritage

- Heart of Pantan are renovated fortificated Remaissance Water Mills, as most prominent building at east Adriatic coast.Renovarion is done by dr.Pavic family and with support and spervision of Croatian Ministry of Culkture. Ministy of Tourisam, European Community-Regione Veneto.

Flora, fauna, spruts, lake river Rika, sea lagoon

- Spring spruts is 8-12 m3 water/ sec. , forming the lake and passing throught mills after one kilometer spreds at Adriatic sea sand lagoon. Pantan is locations for163 bird type i mrjestilište 34 vrste riba, sa 124 vrste autohtonih biljnih vrsti.

Environment & tourism

- Splitsko -dalmatian County in 2000. protected 50 hectars of Pantan as natural protected park Dr.Mladen Pavić won City of Trogir 2005 Aword for his hard work in Pantan wetland protection and Pantan Mills renovations. Pantan Mills and Pantan Resort are today treasure spot for tourist while visiting Trogir or Split as well for students, pupils ...


Gastronomy & Restaurant

- Our culinary team offer delicius Croatian & International cousine in open Restaurant.Please try our ''peka'', fish, meat, home made bread, select of wines, ice cold bear.

Accomodations

- We offer accomodations in three double occupancy room idael for vacations, honeymoon, business visit.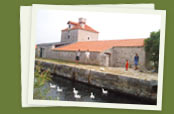 (c) Mlinica Panatan, developed by
TolTeam